UPDATED TO BE INCLUDED ON
BOOMAMAS tour of Homes - - Christmas Edition...
Please go by there and see all the wonderful homes that are decorated for Christmas!!!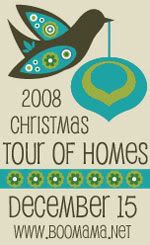 As
previously noted
– we were supposed to move – on Nov. 15.
We didn't.
We have boxes stacked everywhere! This was causing a problem when I tried to create my Christmas decoration mental image because one set of those boxes, the ones in the living room, were just in the way!
I refuse to unpack the boxes though.... So, now they are magically transformed to a snow mountain - - decorated with ribbons, glitter, stuffed animals, and a nativity scene..
Why yes - - it is a bit junky looking... but much more festive than a bunch of brown boxes!!
We call it "making the best of a less-than-perfect situation." One more reminder that we REALLY want a new house - - and I just am praying that I don't have to unpack one more box until I am in a new house.
We also did our own Gingerbread house this year – My first one!
The last picture is the back of the house... looking amazingly like the front of the house. Its the pattern that came in the Walmart box - I don't know of many houses that have the same print on the front as the back... but these ginger people, I think they get in ruts too easily. They make up for it in their candy coated decorations though.
Ronnie was mostly in charge of decorations – his creativity amazes me. We had to buy extra icing in multiple colors so that there would be enough variety in color options. I wondered if that was the smartest thing to do, seeing as how this house has a history of ant problems. But, so far, so good - - and it made the house so much cuter!
He also roasted his own marshmallows.
And here is the mantle – looking majorly like it did last year.
Here is the tree - -
And one of the FOUR "first Christmas together 2007" ornaments that we have. Not that I am indecisive (well.. maybe) but more because we bought ours and then received three as gifts! Its great to have back-ups for when we break them… it always happens.
Anyway – it helped to get me more in the Christmas spirit – something that has not really happened to this point. Its usually my favorite time of year – this year it seems to be missing something. Not sure why – but just praying that the "wonder" of the season and the amazement at the birth of my Savior will come to be more than just a list of things to do as we go through this season.